Experts in privacy and data protection
We make privacy part of your company DNA 
It's no secret that we're becoming more aware of privacy, with laws and regulations becoming increasingly complex. The trick is not to see privacy and data protection as an obligation, but as something that makes you stand out for the right reasons. That's exactly where DPO Consultancy comes in. We help you make data privacy second nature in your company – providing people with the right knowledge, making sure processes are properly structured, and organizing everything down to the last detail.
Privacy Journey
Compliance with all legal privacy requirements and guidelines is not a one-off project, but a permanent process. A journey that every organization must take in order to be able to permanently comply with the basic principle of the GDPR: accountability. DPO Consultancy guides you through every step of that journey.
Brexit and the GDPR
What's the effect of Brexit on the GDPR? What will change and how can your organization continue doing business with England, and how can England do business with us?
EU-US Privacy Shield
the Court of Justice of the European Union declared the EU-US Privacy Shield invalid. As a result, as an organization based in the EU, you can no longer transfer personal data to the United States on the basis of the Privacy Shield. What does this mean for you?
The GDPR, what does it mean for non-EU companies?
In this white paper Michael van Staveren describes what measures organizations need in the context of privacy and data protection when they decide to do business in Europe.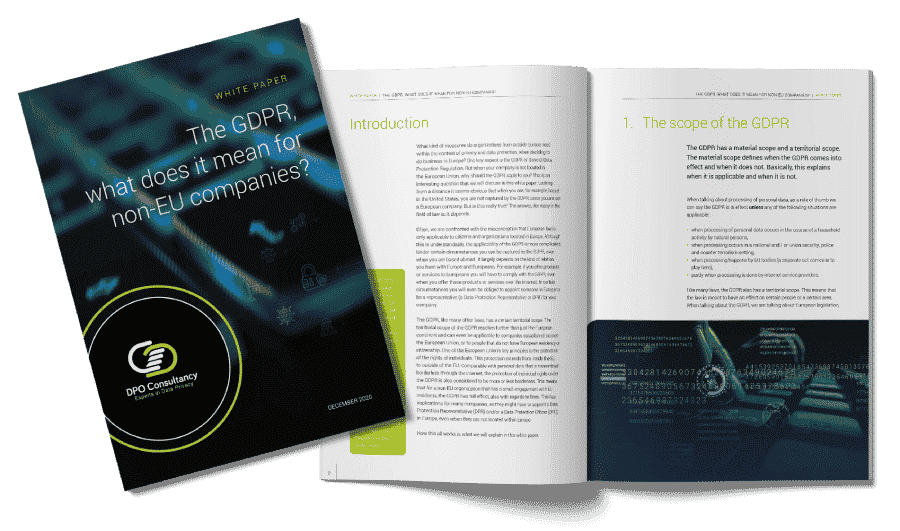 What you need to know about the new Trans – Atlantic Data Privacy Framework
Article
Step-by-step data breach protocol
Tool
The Schrems II judgement and new standard contractual clauses, a look at the upcoming situation
Article
A selection of our clients
Didn't find what you were looking for? Ask one of our experts!