Privacy by Design (PbD) is a term from the General Data Protection Regulation (GDPR), which many organizations have probably heard of. It is a mandatory element when processing personal data, which revolves around attention to data protection in the design phase of a product or service. However, Privacy by Design is still quite a challenge for many organizations because it often remains too abstract and theoretical. In this article we explain why Privacy by Design is important for every organization, what the 7 principles of Privacy by Design mean, and we show how you can apply the theory in practice.
Why is Privacy by Design important?
Privacy by Design originated in the early 1990s and is an engineering and strategic management approach that allows you to minimize information system's privacy risks selectively and sustainably through technical and organizational controls. The concept of privacy by design was developed around 1990 by Ann Cavoukian, then information & privacy commissioner in Ontario, Canada. She believes that privacy should be embedded into information technologies (IT), business practices, and networked infrastructures, as a core functionality.
By thinking about this beforehand, organizations can avoid encountering challenges related to the processing of personal data later on. The fact is that Privacy by Design has only become more relevant in recent decades. The amount of data inside and outside your organization is growing exponentially. As a result, it is becoming increasingly complex to keep control over which personal data you process and to identify and prevent challenges in an early stage, instead of repairing them afterwards.
Implementing Privacy by Design not only helps you to keep control over which personal data you process and to identify and prevent challenges in an early stage, it also helps in repairing them afterwards. It also allows you to work in a cost-efficient manner. Since you include technical and organization controls to mitigate privacy risks in an early design stage, which prevents that you have to make expensive adjustments later on while developing a product or service, for example.  Applying Privacy by Design can even help you gain a competitive advantage because if you protect and respect your customer's privacy (even) better, this will build trust and loyalty with the result that customers become ambassadors for your brand.
The seven principles of Privacy by Design
To understand how Privacy by Design works, it is useful to know which 7 Fundamental Principles the theory contains. The practical outcome of the implementation of the principles can vary within each organization and strongly depend on the specific circumstances. We will briefly explain each principle to give you a basic understanding of how to integrate this data protection concept into your company.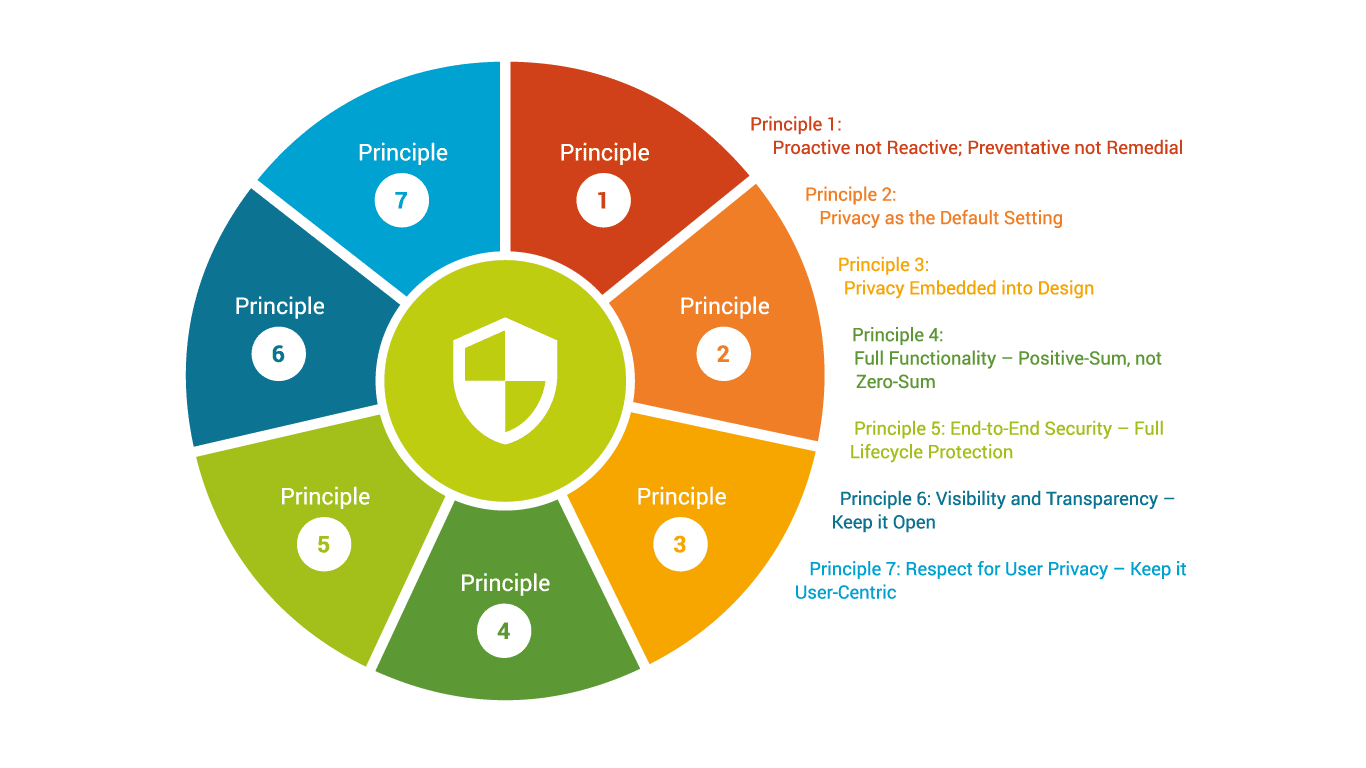 1. Proactive not Reactive; Preventative not Remedial
The first principle includes the importance of having a proactive and not a reactive approach in any product, service, system or process. The aim should be to prevent that privacy risks will materialize. Privacy by Design expects you to anticipate and implement proactive measures to prevent privacy invasive events from occurring, instead of offering remedies for solving such events.
2. Privacy as the Default Setting
The second principle is about setting privacy as the default setting. Users need to be able to trust one thing – the default settings. As a starting point, organizations can provide maximum privacy assurance to personal data in any of their IT systems or business process without any further action that is needed on the side of the individual whose data is being processed.
3. Privacy Embedded into Design
The basis of this principle is that privacy should be included as an essential component in the design and architecture of IT systems and business operations. This means that privacy should be included from the very beginning in which core functionality is delivered, and not something you include as an 'add-on' in a later stage of the design process.
4. Full Functionality – Positive-Sum, not Zero-Sum
This principle aims to accommodate legitimate interests and objectives in a 'win-win' manner, rather than an approach that makes unnecessary compromises with privacy. It rejects the zero-sum view that privacy should be sacrificed if you are aiming for other design objectives, legitimate interests, and/or technical capabilities. It stimulates a positive-sum approach in which you will have a doubly-enabling outcome with privacy in mind.
5. End-to-End Security – Full Lifecycle Protection
The goal of the fifth principle is to ensure that data is secured and destroyed in a timely manner throughout the entire lifecycle management. Throughout its entire lifecycle data should be secured from end-to-end, at rest, in transit, and while in use. Furthermore, this should be consistent with international standards that have been developed and recognized.
6. Visibility and Transparency – Keep it Open
It is very important that the technology or business practice involved is transparent to the user, that it is aligned with the objectives that are stated and shared with individuals, and that it is subjected to independent verification.
7. Respect for User Privacy – Keep it User-Centric
This principle focuses on measures in an information system that are strong privacy defaults, appropriate notice and empowering user-friendly options to keep it user-centric. This means that a system should be designed for the user, anticipating his or her privacy perceptions, needs, requirements, and default settings.