Privacy for life sciences
Make you clinical research GDPR compliant
Good clinical practice
People participating in medical studies, tests and treatments in the EU are entitled to the protection of their physical and mental integrity. But in terms of processing their data during clinical trials, participants' rights are also clearly defined, specifically in the General Data Protection Regulation (GDPR). The modern definition of 'good clinical practice' has come to include that the stipulations in the GDPR are verifiably met. However, many life sciences organizations are struggling with organizing studies and clinical trials that are GDPR compliant, and some are concerned that privacy legislation is an  additional hurdle that further complicates their work. Yet it is not the GDPR that is causing problems, but the way in which people interpret and apply its rules – which calls for an approach with a strong focus on knowledge and awareness!
A sustainable design
Bringing your organization in line with good practice in privacy and data protection requires expertise, industry knowledge, a specialist approach, focus, and structure. More and more life-science companies are realizing that privacy and security are part and parcel of their day-to-day work. On top of a project-based approach, business processes need to be structured sustainably. Privacy management goes much further than just complying with the GDPR. Yet many life-science organizations struggle with ensuring their studies and clinical trials are GDPR-compliant, or fear that privacy legislation is another hurdle that makes the job more difficult. But it's not the GDPR that causes problems, but the way people interpret and apply the rules. That's why you need a partner with the right knowledge and awareness.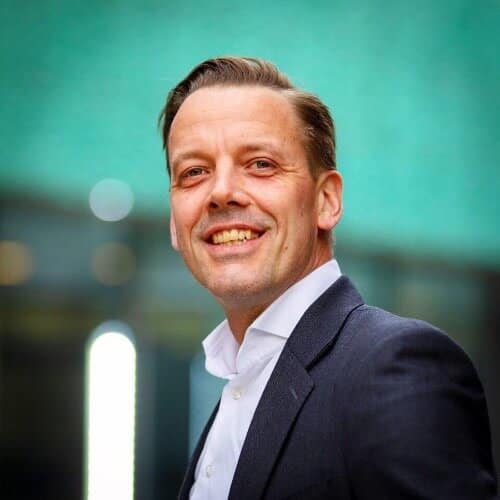 "Privacy management for life science companies goes much further than just complying with the rules of the GDPR."
Jelmer Pieters – Managing director DPO Consultancy – MBA CIPP/E
The data privacy journey

DPO Consultancy helps companies in the life sciences industry to achieve their structural compliance with all privacy requirements needed to ensure 'good clinical practice'. How do we do this? By making the data privacy journey together. We start with an audit or assessment, determining risk factors and improvement areas, followed by taking the appropriate measures and embedding them into business practice. Moreover, we can fulfil the role of an independent Data Protection Officer and function as a contact for the compliance officer. Since data privacy concerns all members of the organization, we pay extensive attention to their training and awareness – for both data protection professionals and other employees who come into contact with privacy-sensitive information. This way, the data privacy journey ensures a gradual and structured approach to a secure handling of all data in your organization.
Five crucial steps towards a GDPR proof clinical trial
White paper
Step-by-step data breach protocol
Tool
Life Sciences & Data Privacy
Webinar